How the Internet Will Ruin Commercial Real Estate
October 23rd, 2010 Written by Z
Commercial real estate is in a world of hurt. A combination of faltering businesses, falling rents, record vacancy, and a second wave of financing resets are putting a pinch on commercial real estate investors of all stripes. But one major factor, a change in how we shop, will be the final nail in the coffin.
Hello, Internet
Where we might have once traveled to the inner-city to shop at any number of locally owned small businesses, today's shoppers are heading either to category killers (Best Buy, Home Depot) and discount stores (Target and Walmart) or to the internet, where the offline retailers have started moving in while internet-only giants like Amazon sell billions in product annually.
The most interesting shift to the internet is that it isn't really that much of a shift. Sure, far more people are shopping online, but not the people with the money (yet). The older audiences, 55+ age people who have savings, home equity, and years of experience in their career are slowly shifting to the internet, not because they're growing more comfortable, but because the "younger" 18-54 shoppers have aged in the past 10 years.
Obviously this isn't the best data to use, but for these purposes, it works just fine. All things being equal, the biggest gains in online shopping will come from rising incomes for people 18-54: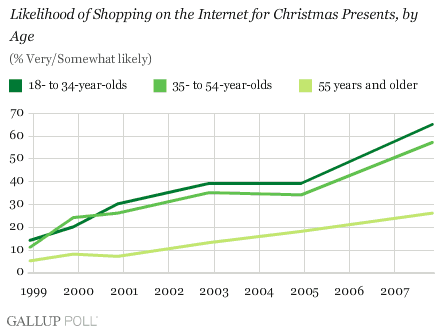 This is, I believe, a shift not just in consumer preference, but a shift in the consumer preference as it pertains with age. With each passing day, another e-shopper is born while a brick and mortar shopper passes away. That's not good for commercial real estate.
Comparing Two Business Models
Commercial real estate derives its value from a number of factors, but most importantly, the traffic that passes the space. A retail outlet on the busiest street or in a high volume shopping mall might cost as much as $10,000 a month. A warehouse in the middle of nowhere, however, might rent for $1,000 per month.
The brick and mortar retailer can't operate out of the warehouse. It relies on passing traffic, local traffic, to make a sale. The e-retailer, however, can operate from the middle of nowhere, and take advantage of very inexpensive rental prices since its products are delivered via mail.
Commercial Has a Long Way too Fall
Should the internet continue to gain ground against more expensive, less convenient offline establishments, the current supply of commercial real estate is far higher than can be sustained 10, 20, or even 30 years from now. If you're looking to get into commercial, I would seriously consider thinking it over, maybe opting for residential real estate instead.
Either we're going to see a revival of local shopping, or commercial is toast. I expect that commercial real estate would have to plummet to the price level of residential real estate before whole shopping plazas are turned into apartments and indoor townhomes. The old pet supply store might just be your next bungalow.